Step 8 : Pick up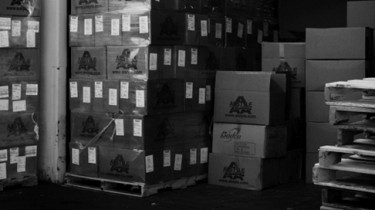 If picking up completed order:
After receiving notification from Wheresmyjob.com that your order is complete, you can come by any time on weekdays between 9am and 4pm Monday-Thursday (Friday 9am-3pm) for pickup.
You should have received a bill from the Accounting department, please make sure to have payment ready on receipt. Receiving an invoice from QuickBooks, is usually the last step on the process and should be one of your signs that your job is done. We will not release any orders without payment. We do not give terms for 99.99% of our broker. If you need terms for a job please contact us BEFORE placing the order with us. All requests for terms on jobs already submitted will be declined.
Once you are in our lobby, let our customer service know the name of the job and what job type it is (screen printing, embroidery, ). We will bring the finished product out to you. If it's a large order we may ask you to pull around to our loading dock in the back. There is a lot of activity in the back and we try to avoid sending customers back there. Always come to the front lobby first.
Once you have the product in front of you, please inspect it before leaving. After you leave it becomes harder to explain or defend ourselves in case there is an issue. Make sure to inspect the box to ensure all J6 Designs markings are removed and it is ready for presentation to your customer. Our staff is required to fill out a post-production Inventory Count Sheet for each box. This count is done independently and should match your PO. If there is not a match, make sure to notify us right away.
If you are having the completed order shipped:
If you are having your completed order shipped, it will be done according to the instructions on your PO. If there is no UPS shipping number included on your PO, the items will be shipped using our account and you will be billed for the cost. We ship ALL orders blind for brokers. This means we take the precaution of removing all labels from the boxes to make sure there is no information of our existence. This is done to protect the relationship you have with your customers. Payment is due BEFORE we ship, so please call in with a credit card or pay according to the instructions on the Quickbooks invoice we send.
We send one notification for completed orders and do not typically follow up. If there was any issue with the order, please take steps to contact and notify us. We can only fix issues we are made aware of. On the other hand we also like to hear when your customer was happy with the product. It's what makes all the hard work worth it at the end of the day!